HFN Aug.2, 2015
European producer hopes to build brand awareness in the U.S. by demsytifying product specs
Borosilicate glass has a bit of an image problem. Or, more accurately, a lack-of-an-image problem.
Borosilicate glass is what is used to make test tubes and beakers as well as carafes for coffeemakers and many other housewares products.
Despite its thinness, it's remarkably tough. The presence of boron in the glass helps make it stronger, harder and more stress-resistant than ordinary glass.
It can withstand significant thermal shock, enduring temperatures ranging from 572 degrees Fahrenheit to minus-40 degrees Fahrenheit, which means you can boil water in borosilicate glass cookware on the stovetop, or pour cold water in a piece of borosilicate glass bakeware in a 350-degree oven and the glass won't break. It also does not leach, which is why it is used in test tubes and beakers in science labs.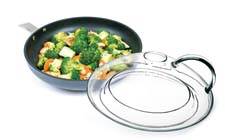 The universal lid can fit several sizes of cookware.
In Europe, borosilicate glass is well known and well understood. But in the United States, few consumers know what it is. In Europe, 177-year-old Kavalier Glass, headquartered in the Czech Republic, is a household name. In the United States, Kavalier Glass and its Simax, Echo Pure and other brands don't ring a bell. Kavalier is working to change that. "It's an education process," said Carol Wells, national sales manager for the U.S. market.
Simax is the brand name for Kavalier's line of bakeware, ovenware, pitchers, coffee presses and the like. It claims to be the only remaining brand of borosilicate glass bakeware in the United States (other glass bakeware companies use soda lime glass). At the International Home + Housewares Show in March, Simax launched the Echo Pure line of tumblers and stemware, which are not made of borosilicate glass. Kavalier also owns Walther Glass, a German company acquired by Kavalier a few years ago and distributed in the United States.
Simax is sold primarily in specialty stores and dot.coms, where the product can be explained really well. "But we keep pricing in mind so our independents can sell at competitive price points," Wells said.
The company hopes to tap into the trend towards healthier baking, particularly in the Northeast and on the West Coast, by promoting the clean aspects of borosilicate bakeware. It has switched its rep groups in several regions and doubled its sales force. It has developed flyers, videos and public relations materials for distribution online, at retail and at cooking schools in an effort to educate consumers on the benefits of borosilicate glass. And it is participating at gift and tabletop shows this summer and fall where it is promoting its range of products, including its stovetop cookware, a 16-by-10 roaster, retailing for $30, a universal glass lid and even a glass pizza stone. Price points range from roughly $9.99 to $64.99.
"We're at the tip of the iceberg getting started on this," said Wells.